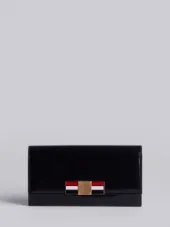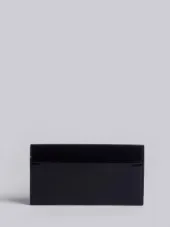 Long Zip Around Wallet With Red, White And Blue Enamel Bow Clasp In Calf Leather
Zip Around Wallet
Red, White and Blue Enamel Bow Clasp
Smooth Calf Leather
Brass Zipper
Red, White and Blue Grosgrain and Leather Tab
8 1/2" x 4 6/8" x 1"
100% Leather
Made In Italy
FAW025A-00003 001
Express Service:
Most of Europe and USA: delivery within 2-4 days
Rest of the world: delivery within 3-7 days

Standard Service:
Only available within Europe: delivery within 5-7 days

Click & Collect
Pickup within 3 – 7 days

Thom Browne stores in New York, Aoyama, London and Milan offer complimentary Click & Collect service for any order. Kindly select the "ship to store" at checkout.

Complimentary Returns
Thom Browne will accept returns within 14 days from receiving your order. Regarding a click & collect delivery, you have 14 days from receiving a 'your order is ready to collect' email to return the item to a Thom Browne Store. Kindly note the Thom Browne Stores & click here to read our return policy.